Sky Farm Hermitage is again Closed until further notice.
As much as we wish that we could welcome you again and share our life of Silence and Stillness, we have reassessed the situation and realize that for the safety and health of our guests it is best to remain closed until further notice. Sonoma remains a high risk area for Covid-19 and this has not improved as hoped.
For us this is a hardship and we miss sharing this place with each of you, but for now we will continue our vocation of prayer and silence trusting in God's care that all will be well. We are praying that a time of healing comes soon and look forward to the day when we can welcome you once again.
Resources for this difficult time can be found here.
Hermitages
Sky Farm Hermitage has 4 Guest Hermitages available for individuals seeking time alone in silence and stillness. As the gift of Sky Farm is a chance to experience solitude, each hermitage is single occupancy. No pets for the sake of others on retreat.
• The 3 self-contained Hermitages have a bathroom and kitchenette. The suggested donation is $105 per night.
• The unique Wine Vat Hermitage has the use of a fully equipped refectory/kitchen. The refectory is a short distance from the hermitage and has a shower & bathroom attached. The suggested donation is $85 per night.
• Beds are made and towels provided.
• Guests bring food and prepare their own meals. A fully equipped kitchen is provided.
• Our beautiful Chapel is always open for prayer & meditation.
• A light jacket or a sweater is recommended even in the summer, as evenings can be cool. Good walking shoes are helpful as the terrain is rocky.
• We ask guests to maintain the silence and to respect the quiet of others on retreat.
Reservation and prayer requests can be made here.
Our hope is that time spent in solitude will result in a deeper inner peace and compassion for the world around you. You are invited to come and drink from this source and enjoy this unique wildlife corridor between the vineyards.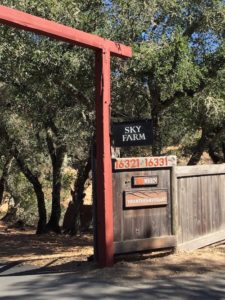 Directions
Sky Farm Hermitage is located 3 miles from the historic Plaza Park in downtown Sonoma.
Approaching the Sonoma Plaza on Broadway: turn left onto West Napa Rd, then immediately right on 1st Street West. 1st St. West becomes Norrbom Rd, follow this for 3 miles until you come to: 16321 and the Sky Farm sign. Turn left into the driveway and follow the road past two houses continuing up the hill until you see the Chapel and Hermitages.